I can't believe summer is already coming to a close! As we plow into the crazy of getting our kids ready, set, and off to school, I encourage you to take a look at how you are planning to use your time this school year. Wouldn't it be nice to have more Free Time? As paradoxical as it sounds, the more time we spend meditating, the more free time we actually feel we have. It actually gives you back hours! I will tell you why...
(New events are listed at the bottom.)
On the cover of Oprah's magazine 'O,' this month it asks, "What are you longing to do?" "How to make your life sync up with your soul." I haven't read the article yet, but as I stood in the line at Target I contemplated what I thought this meant to me and how it pertained to my life. So just what is my focus and intention about life? What is your focus and intention about life?
If you are able to manage your work, life and children, then keep doing it. If you feel your heart is full of grace, connected to your mind and synced to your soul, and you find abundance, joy and rejuvenated energy plentiful......keep doing what you are doing! And let us know your secret. If you can't, you just do your best and forget the rest. Or so we tell ourselves....."I'm doing the best I can." You can only do that much and you will surely go insane if you keep trying to do it ALL!
But, if you are at all like me, you were able to do all of this stuff: volunteering, and then griping, making all of the appointments for everyone, caring about nutrition, exercising, taxi servicing, grocery shopping, meal making, facebooking, connecting, phone calling, brunching, working, marketing, strategizing, planning, fall-breaking, costume making....! I was trying to be someone else! Even with all of that going on, I still felt a missing piece, it wasn't synching to my soul, I was finding no Oprah moments, and I still wanted what other people had. Look at that "perfect"over there, keeping it together, parenting perfectly, walking perfectly, smiling beautifully, and happiness...omg look at that happiness! I didn't even know if I really needed it or not, but I was striving for it, whatever it was, and stock photos on Pinterest weren't helping....constantly placing what it was that I wanted but wasn't sure, in continuous flux with each scroll on the Pinterest page. Precarious needs. My well-being and mental health dangerously teetering in the balance. What I didn't know is that my happiness was pending on external uncertainties. The road most certainly leading us where happiness will never be found.
What I did know is that I was exhausted, no longer enjoying it, and faking it til I made it. Why do I need all of this stuff? Why do I want to keep doing all of this stuff?
What I know now is that in advancing my meditation practice it has been insistent on living a lifestyle that is conducive to balance, serenity and meditative quiescence. If you do not match your external lifestyle to the way you are trying to live spiritually within, there will be no benefit for as long as you live incongruently. Even if you practice with great skill and enthusiasm. If your outer life lies in juxtaposition to your inner life, you will remain unbalanced.
I created all of this because I thought it was the source of joy, but it actually created my anxiety and my misery. Due to a tragic loss of my mother, I took a hard look at the fundamentals of my life. I had to learn the hard way that I was incapable of handling it. I had to scale it down. The solution and antidote to my exhaustion, anxiety, angst and inner existential search was to radically simplify my life. And the priorities seemed clearer than ever. Self-care was severely lacking and I was collapsing under mental burn-out. I stopped to breathe. I examined my breath and how I had walked so many miles in my life not even knowing it was there with me all of this time. I attuned to my breath and it enhanced my attention, deepened my spiritual life and I had an Oprah moment! My life had synced up to my soul!
My previous attitude was mundane, domesticated in our western culture of productivity and largely disembodied. I was trying to act like a martyr all of the time. "I have no time for myself, I am giving myself totally to everybody!" "I have no time for that! Are you kidding me? Ain't nobody got time for that?" And my classic deflection of, "I cannot fit meditation in this hectic schedule!"
But honestly, I had time to eat, to gossip, to work, to check FB, to take care of everything else, and everybody else, but no time to take care of myself? Really?
I used to be a martyr and even on some days now I can resonate deeply with this attitude. But I can quickly and thankfully put it in my rearview mirror with all of the other unhelpful thoughts that are streaming incessantly in my mind.
I can identify with a busy day...waking up at 6:00a....ending at 11:00p....activities, homework, bed etc...I would say I had no time for myself. I'd give it all away to everyone else. Then I paused to ask myself, "What is it that I am giving them?" My fears, my anxieties, my agitation and irritation. I'm just passing that on to my kids. One of my favorite quotes is from Bruce Lee, "We get good at what we practice, and we are always practicing something." Omgosh! I was practicing short-tempered, exasperated, striving for perfection, under the thumb of a different era, self-critic, never satisfied, you can't do it the way I do it, I'll just do it because you are just going to mess it up, mom. Pause. Reflect. Pause. Reflect.
What do I really want to pass on to my kids? What do I really want to practice?
Not only do I want to provide them with their jackets, boots, clothes, education, worldly experiences, but I want to create an environment and an atmosphere of joy and love, compassion, surrounding them everyday, moment to moment with a flourishing and nurturing, safe and secure feeling, so that they can launch into this world with courage, strength and do-goodness skills. I want to teach them all of that but I wasn't willing to do it myself. When was the last time I felt safe, secure, loved, hopeful, positive, strong, and courageous? It has to start with me. I have to take care of myself. My life needs to sync to my soul...of course....Oprah for President!
That is more important than all of the nonsense I was doing, thinking it was providing them with God knows what?
If you are truly concerned about your children and you would like to create a joyful and loving atmosphere for them, take a look at your own self-care plan, and I might suggest incorporating a mindfulness practice.
If you invest even 10-30 minutes a day into your meditation practice, you will see you will gain immensely in all areas of abundance including in terms of time. My meditation teacher wisely says, "Don't take my word for it. Try it and see for yourself."
The first thing I noticed was that my daytime drowsiness decreased. My body and mind felt more energized and active and I wasn't reaching for that afternoon dose of caffeine. I gained wakefulness. My body and mind also became more organized. After about 6-8 weeks I observed myself throughout my day and I realized I was wasting so much valuable time on unnecessary moments, words and reactions.
Twenty-four hours for the first time in my life started to feel like ample time. I felt organized and focused and was not dissolving minutes into the minutia of trivialities that were no longer serving me. Should the party napkins be blue or yellow? Making cupcakes that look like owls....which is great if you are a cupcake maker and only a cupcake maker, and you enjoy cupcake making. But I was a mom, trying to be a cupcake maker.....see the difference. I was trying to be a lot of things...ahem....perfectly.
If you are disorganized and unfocused you feel there is never enough time. But in reality we waste most of it. In fact a Harvard study says 50% of our time we are thinking about the past or pre-living the future. We are fantasizing outcomes that will never occur, or we are worrying about things devolving us into anxious ridden states, and 90% of the time they will never play out in our realities.
If we examine it through this lens, most of the time we are not busy, we are just preoccupied. If you made a documentary of your life and hired a camera man and a journalist to follow you around all day, how much time would you be busy with unnecessary tasks?
In mindfulness we learn a lot of things that will enhance the quality of your life. It will in fact become very different. The single tenet of creating a mind that is more organized and not deluded in past or future, but focused on simple tasks at hand in the present moment will change your life dramatically. All of those unnecessary words, actions, self-blame, self-criticizing, negativity, and damaging stuck emotions will disappear. Then you will have more than enough time! And you will feel that you are enough, just as you are! So thankfully we can stop wasting our time trying to be someone else....which will of course leave more time for cupcake making!
Make time for meditation this fall and see. it will make a huge difference. Your kids will thank you. The people around you will thank you. Start this school year off with mindfulness and compassion training and give yourself back hours and sync your life to your soul.
Here's what is happening at Be Here Now this fall.....
Monday, August 6th
6:00-8:00 p.m.
$20
Come out to hear about what Compassion Training is all about. Why should we train in compassion? We will be learning about the science of compassion as well as working with simple experiential exercises that will leave you inspired.
Where: ParkAire Consultants 4939 Lower Roswell Rd. Marietta, GA 30068
CBCT® Compassion Training
August 15-Oct.10th Wednesdays
12:00pm-1:00 pm
+20 CE Credits
Sept. 9th 11:00am-3:00pm and Oct. 14th 11:00am-3:00pm
SAMA Food for Balance 56 E Andrews Dr. NW Atlanta, GA 30305
Why should we train in compassion? Why is compassion important or seen as valued in today's society?
20 Continued Education Credits are offered to all helping professionals through Emory University.
Details about this class can be found here.
Mindfulness for Middle Schoolers **Before School
August 13th-October 15th Mondays
7:30a.m. to 8:30 a.m.
Where: ParkAire Consultants 4939 Lower Roswell Rd. Marietta, GA 30068
Adolescents today need mindfulness more than ever. Give them the training that will enhance their wellbeing and help them flourish the way they were intended to in this world.
There is a lot of research emerging about why mindfulness training in the morning is beneficial. It has the stickiness factor and sets kids off for their day on a calm, confident and focused path.
This is an 8 week curriculum from the Mindfulness in Schools Project .b program. A researched based secularized mindfulness program for schools.
To read more about why kids need mindfulness and about the .b curriculum click here:
No Drama Mama--Mindfulness for Mothers
Friday, Sept. 21st
8:30 a.m. to 5:00 p.m.
Where: Santosha Yoga Studio 896 Davis Dr. NW, Atlanta, GA 30327
It's back! Offering this life-enhancing workshop for 8 Continued Education Credits!
Our families need calm, focused, strong, resilient mothers. Come train to be a warrior in this ever popular workshop. Space is limited so register early.
Starting Tuesday, August 7th
6:30 p.m. to 7:30 p.m.
We will be meeting the first Tuesday of every month for a free meditation meet-up!
Where:
Whole Foods/East Cobb/Merchant's Walk 1289 Johnson Ferry Rd. Marietta, GA 30068
Come out the first Tuesday of every month to meet others who are helping grow this mindful community!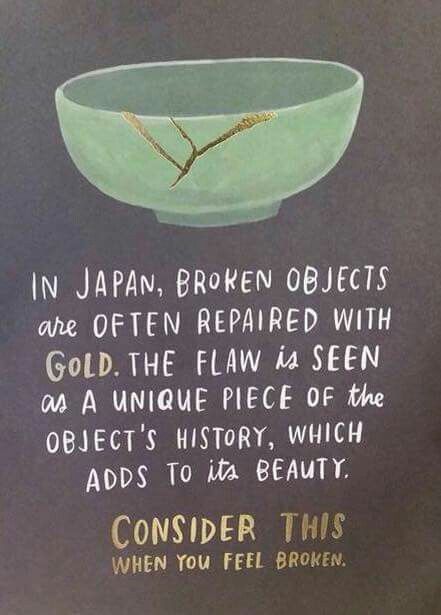 Kintsugi: Turning Your Wounds Into Wisdom
It's back! And it's improved! This rare opportunity is being offered as an all-day retreat at Santosha Yoga Studio and now includes somatic yoga practices. Kintsugi art, yoga, and mindfulness all in one-day! You will not want to miss this!
SAVE THE DATE!
January 12th 2019!
Registration will open soon, and more details are to come. To be placed on a wait list and secure your spot early with VIP registration e-mail me here.
There is always more.......
Classes, workshops, retreats, and free meet-ups are always being updated and added, so stay connected through myriad social media platforms below and be sure to subscribe here to the Be Here Now Mindfulness website.
If there is something you would like to see offered, or you would like to take mindfulness and compassion training to your workplace, school, church, sports team, or book club, please reach out to me.